Apple 10-K Confirms The New Super Cycle
November 10, 2017 6:42 am
The iPhone X product reviews, statements from Tim Cook that demand is "off-the charts," the extreme buzz in the media – all indicate that Apple (NASDAQ:AAPL) may be entering an iPhone super cycle. A specific piece of data in the recent 10-K filing gave me hard evidence that this may indeed be the case. Below we analyze the data in the SEC filing, compare and contrast it to the previous time that happened, and call out how we expect the stock price to move in the next year.
What the 10-K reveals
Short-term purchase obligations, a metric Apple (AAPL) reports in 10-Qs and 10-Ks, has been a fairly accurate predictor of revenues for the following quarter. The most recent 10-K (emphasis added) shows that Apple has committed $37.6B in non-cancelable arrangements.
Manufacturing Purchase Obligations – The Company utilizes several outsourcing partners to manufacture sub-assemblies for the Company's products and to perform final assembly and testing of finished products. These outsourcing partners acquire components and build product based on demand information supplied by the Company, which typically covers periods up to 150 days. The Company also obtains individual components for its products from a wide variety of individual suppliers. As of September 30, 2017, the Company expects to pay $37.6 billion under manufacturing-related supplier arrangements, substantially all of which is noncancelable.
When we compare the purchase obligations from previous years (Table 1), we find that the current year-over-year growth rate matches that of the 2014 iPhone 6 launch. So why is that interesting? Recall that iPhone 6 screen size was much larger than the previous iPhones, and that led to super-sized unit growth for several quarters. By calling out this outsize "purchase obligations" in the 10-K, my take is that Apple is expecting another super cycle.
| | | | | | |
| --- | --- | --- | --- | --- | --- |
| | iPhone 5s | iPhone 6 | iPhone 6s | iPhone 7 | iPhone 8, X |
| | Oct-2013 | Oct-2014 | Oct-2015 | Oct-2016 | Oct-2017 |
| purchase obligations ($M) | 18,616 | 24,529 | 29,500 | 28,600 | 37,600 |
| y2y% | | 31.76% | 20.27% | -3.05% | 31.47% |
Table 1
Before we jump to the conclusion that super cycle implies a super stock price gain from here, let's look at the facts carefully. The high growth rate of purchase obligations imply that Apple expects a high unit growth rate of iPhone X in the coming year, similar to what we saw in 2015 after the launch of iPhone 6. To get the cues of the stock price in the year ahead, let's check the stock chart of 2014-15. After the launch of iPhone 6 in October 2014, the stock continued to move up, reaching a high around $134 after January earnings call, moved sideways until early summer, and actually started to fall in the latter part of the year.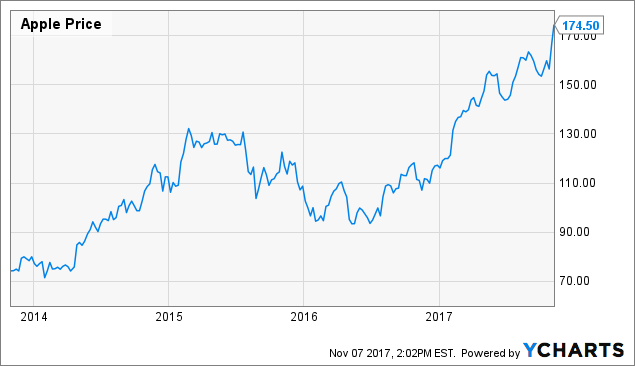 So what was the cause of the stock price decline even though it was in a super cycle? While iPhone unit sales were above normal, investors started asking the question "what's next" that could continue this growth rate. As the early rumors of iPhone 6s features started to surface in late summer, and the takeaway was that there was not much new and exciting, the fear that iPhone sales had peaked took hold, and the stock tanked over 30%. The media started to draw comparison with the PC industry of the 2000s that had gone into a permanent slow decline. Moreover, none of the other Apple products – iPad, Mac, or services – were growing, and there was no "next thing" that could save the company.
Will history repeat and will Apple stock be an under performer in 2018? We believe that it will be different this time.
What's different this time
There are several factors that are different from the last super cycle.
First, with iPhone 6 and 6s cycle, while the units did grow, the ASP (average selling price) did not. I believe that in the current cycle, while the units may grow a lot in the first six months, they will settle down to mid single digits thereafter – similar to the iPhone 6 cycle. However, Apple has figured out that by adding features that customers really care about, they can increase the ASP. They first test marketed the ASP increase with iPhone 7-Plus (was $30 more than previous generation iPhone 6s-Plus); 7-Plus had a superior camera, and more customers opted for that than the cheaper 7, leading to a rise in overall ASP. This time around with iPhone X, the ASP is even higher ($999), and customers are more than willing to pay for the extra features like Face ID, OLED display, etc. My take is that Apple has "cracked the code" of higher ASPs, thus debunking the notion that prices for technology products always fall and iPhones will go the way of the PC industry.
Second, the services segment continues to grow at a healthy rate (20%-plus for the last several quarters). From the most recent transcript: "A few quarters ago, we established a goal of doubling our fiscal 2016 services revenue of $24 billion by the year 2020, and we are well on our way to meeting that goal. In fiscal 2017, we reached $30 billion, making our Services business already the size of a Fortune 100 company." The implication is that if iPhone sales do suffer in the future for any reason, services could take that slack.
Third, the iPad that was in a steady decline is growing again. In the most recent quarter, iPad saw a "second consecutive quarter of double-digit unit growth." Fourth, China that was hardly growing is back in growth mode again (revenue was up 12% from a year ago).
Conclusion
There is now hard data that with the launch of iPhone X Apple is indeed in a super cycle. While the last super cycle ended poorly for investors, I believe that Apple has figured out where things went south, and this time it will be different.
Disclosure: I am/we are long AAPL.
I wrote this article myself, and it expresses my own opinions. I am not receiving compensation for it (other than from Seeking Alpha). I have no business relationship with any company whose stock is mentioned in this article.