General Electric: Strong Buy
June 2, 2018 6:00 am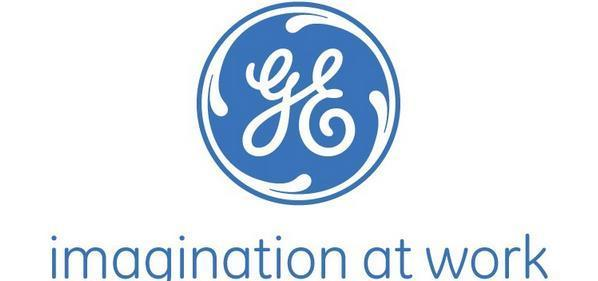 The drop in General Electric's (GE) share price is yet another buying opportunity in my opinion. The industrial company has seen a considerable rebound in investor sentiment after the release of better-than-expected first quarter results, and the recent sale of General Electric's rail business to Wabtec puts the company on the right track. GE will likely continue to shred more assets in the next several years and apply a laser-sharp focus on the restructuring of its power business. I see General Electric as an appealing contrarian rebound play with up to 40 percent upside potential over the next twelve months.
Rebounding Investor Sentiment…Until The Last Week Of May
General Electric's shares started to rebound in April and May, after falling rather consistently throughout the first three months of 2018. Concerns over weak cash flow, a struggling power unit, and uncertainty after the dividend cut in Q4-2017 have weighed on investor sentiment at the beginning of the year.
That being said, though, investor sentiment is improving after the industrial company reported better-than-expected results for Q1-2018. Most recently, however, GE's share price has dipped again on concerns that the power restructuring will take longer than expected.
Year-to-date, General Electric's share price has dropped ~19 percent.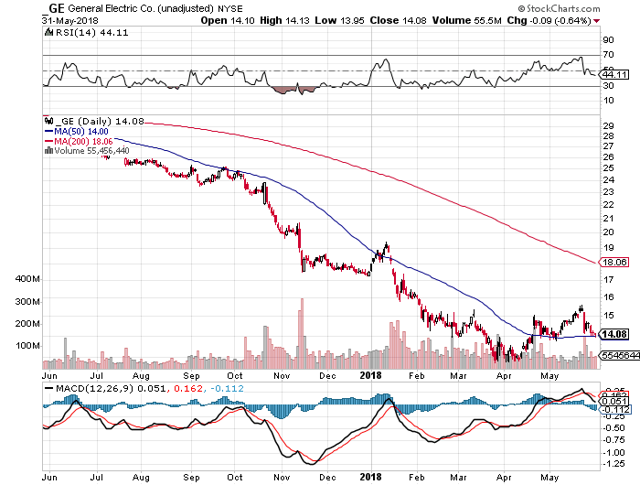 Source: StockCharts
The recovery in General Electric's share price looked fine, until May 23, 2018 when John Flannery, Chief Executive Officer and Chairman of General Electric, said that he expects GE's power division to continue to struggle in the near future. Further, the CEO cast some doubt on its dividend, which made investors ditch the stock yet again. GE's stock, meanwhile, tumbled more than seven percent.
Investors were quickly rattled by the CEO's remarks about the restructuring of its power division, but there were few things that were actually new. The power division, as all investors know, has been a drag on GE's earnings and margins, including the first quarter of 2018.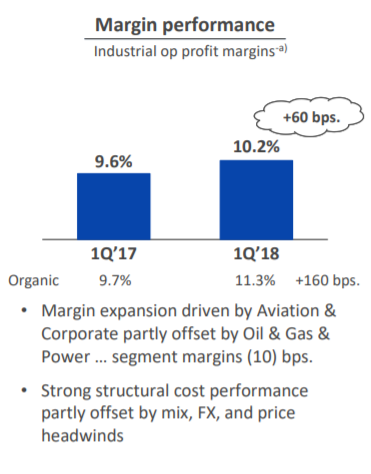 Source: General Electric Q1-18 Earnings Release
General Electric is running a hard restructuring, laying off people and reducing overhead costs. The company has guided for $1 billion in segment cost reductions in 2018, and has put a set of measures in place aimed at boosting performance, including driving better execution, taking margin actions, and selling non-core assets.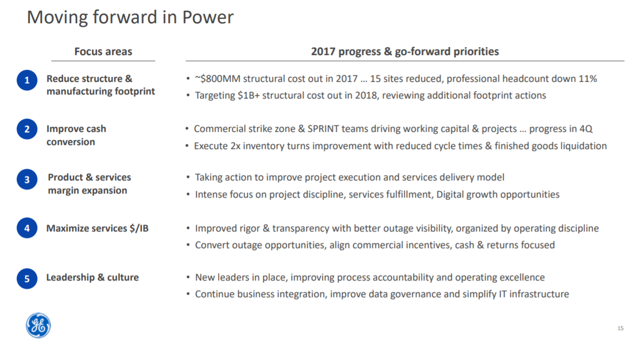 Source: General Electric Investor Presentation
I think General Electric is doing the right things as far as the power restructuring is concerned, and investors should give the industrial company some time to turn the ship around.
Are There Risks To The Dividend?
General Electric slashed its quarterly dividend payout 50 percent from $0.24/share to $0.12/share in November 2017, which was the second time since the financial crisis that the company slashed its dividend.
Is the dividend sustainable?
Frankly, that depends to a large degree on whether General Electric can engineer a cash flow turnaround.
Here's GE's industrial cash flow from 2012-2017.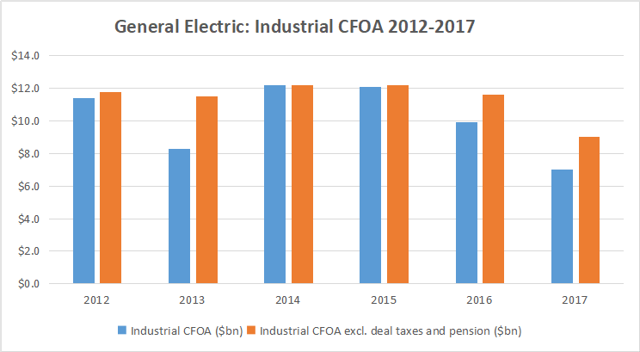 Source: Achilles Research
Asset sales, however, could play a major role in boosting GE's cash flow, at least over the short haul. General Electric recently sold its 111-year old rail transportation unit to Wabtec in an $11.1 billion deal. The industrial company will receive a $2.9 billion cash payment associated with the deal.
What To Expect Over The Next 12 Months
Obviously, General Electric will be tempted to sell more assets and raise its cash levels. I don't think that management will want to cut the dividend again unless cash flow unexpectedly and significantly deteriorates.
Further, General Electric is strongly focused on driving the power restructuring home, but it may take a couple of quarters for investors to see meaningful results. That being said, GE's laser focus on improving margins in the power business through cost controls and asset sales will likely lead to an incremental improvement in cash flow throughout the year. GE certainly deserves the benefit of the doubt.
Valuation
General Electric's shares are cheap, selling for less than 14x next year's estimated profits while investor sentiment is probably still near multi-year lows.
I am still positive on General Electric's ability to turn things around in the power business in 2018/9. Hence, I reaffirm my $20 price target on GE, implying ~40 percent upside.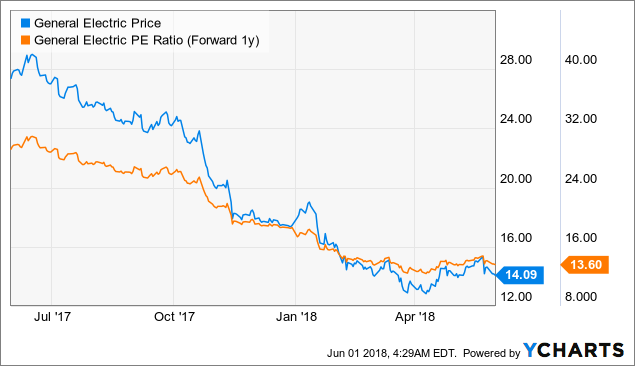 Your Takeaway
General Electric's share price slumped after Flannery's comments at an industry conference last month, and the drop is a promising opportunity to consider a speculative long position in my opinion. General Electric will likely sell more non-core assets in 2018 and drive a hard, cost-centered restructuring in the power business. GE's shares are relatively cheap on a forward P/E-basis, and there is room for improvement in investor sentiment, especially if the restructuring yields cash flow gains. Strong speculative Buy.
If you like to read more of my articles, and like to be kept up to date with the companies I cover, I kindly ask you that you scroll to the top of this page and click 'follow'. I am largely investing in dividend paying stocks, but also venture out occasionally and cover special situations that offer appealing reward-to-risk ratios and have potential for significant capital appreciation. Above all, my immediate investment goal is to achieve financial independence.
Disclosure: I am/we are long GE.
I wrote this article myself, and it expresses my own opinions. I am not receiving compensation for it (other than from Seeking Alpha). I have no business relationship with any company whose stock is mentioned in this article.