How Soros And Buffett Inform An Updated View Of Trading Apple
November 27, 2017 6:00 am
Introduction – looking for alpha in all the right places (I hope)
There's a potential bullish set-up in Apple (AAPL) right now that reminds me of thoughts of two icons, Warren Buffett and George Soros.
Markets are a little strange; the evolution of patterns matters. With many tech stocks on a roll, and with frothy valuations in smaller glamour names as Nvidia (NVDA), Adobe (ADBE) and Netflix (NFLX), there may be a "pull" effect on more ponderous names, the largest of which is AAPL. But if so, AAPL would be joining a growing number of large-/mega-caps that have little or no sexiness.
First up, comments on a key Soros trading philosophy that I'm thinking about, then the Buffett views on AAPL, then the rationale for my own hopes for AAPL that go beyond the more restrained but still bullish Buffett views. Putting all together, it may be that the seasonally strong months ahead could turn out well for AAPL's fundamentals and stock price.
Druckenmiller on Soros: Seizing the moment
A former lead investment strategist and trader for Soros, Stanley Druckenmiller, has told the story of how the Soros fund "broke the Bank of England" years ago. With Soros, he had been analyzing and investing in the proposition that a now obsolete monetary arrangement would not hold, and the right play was to short the British pound (This is discussed in detail in an article titled The Trade of the Century). Based on rapidly changing events that favored their existing position, Druckenmiller says he came to Soros with a request to add to their bet on the pound falling, and that Soros responded that he was in error.
What was the error?
That Druckenmiller was proposing too small a position! If it was a great idea and a timely one, well, great ideas with a very short time frame to pay off come along only rarely. A bigger bet was called for. As the above-linked article quotes Soros as saying at some time in his career:
"There is no point in being confident and having a small position."
And as the article says specifically about this situation:
Druckenmiller noted that their [existing] $1.5 billion bet against the pound was about to pay off and that they should consider adding to the position.

Soros retorted with a different strategy: "Go for the jugular."
Going for the jugular with a bullish view of AAPL involves different tactics than currency trading, of course, but the question is whether AAPL will reward A) continued long positions rather than taking profits (rebalancing) and B) adding to or initiating positions/selling puts, or more aggressively buying calls.
After its big move, could AAPL really still have a good enough reward:risk ratio in the months ahead to warrant being seriously overweighted by traders?
This article explores that question, which is pertinent to me given my overweight in this stock. Note that this is an exploratory, opinion piece and in no way represents investment advice.
Starting with the technicals, I like the set-up for AAPL in part because it is both a laggard against red-hot mid- and large-cap techs, and because AAPL has begun performing so strongly against its mega-cap peers.
AAPL: Technicals in higher gear, could be accelerating
Here are some relative strength charts.
First, AAPL versus the DJIA (DIA) on a three-year view: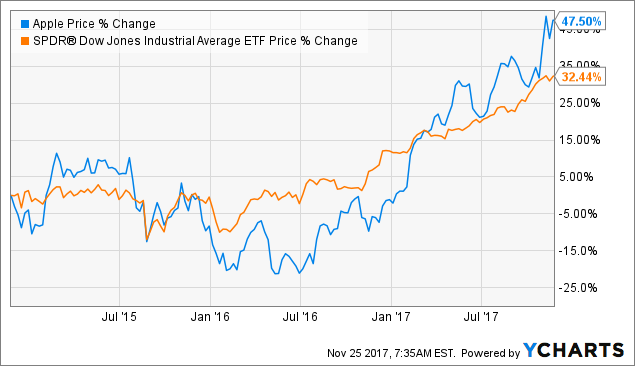 We see the DIA up at a 10% CAGR plus dividends, and relatively steady in achieving this (note to short sellers: this is an unremarkable performance by DIA). And we see AAPL up more than that, having swung from significant underperformance as of mid-2016 to net outperformance.
That's an encouraging bearish-to-bullish shift for AAPL.
Next, AAPL versus the NASDAQ 100 (QQQ). On a five-year chart, we see that AAPL, coming off a high point five years ago, has lagged QQQ: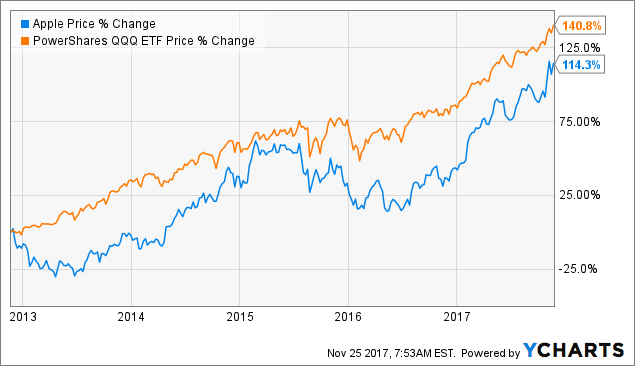 AAPL data by YCharts
However, over the past year, AAPL has regained its tech mojo, strongly beating QQQ: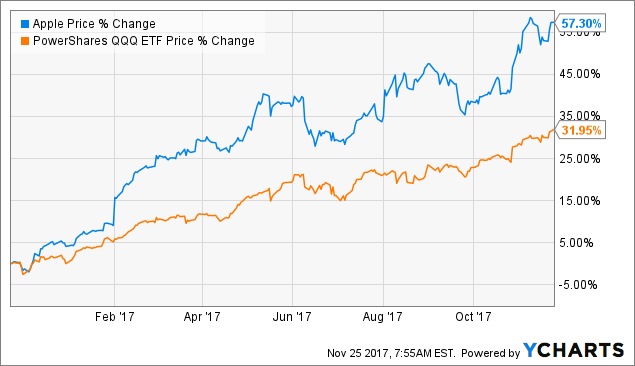 AAPL data by YCharts
Again, that shows a bearish-to-bullish relative performance shift for AAPL, which is a technical positive.
Finally, even better, AAPL has beaten every mega-cap tech horseman on a one-year basis: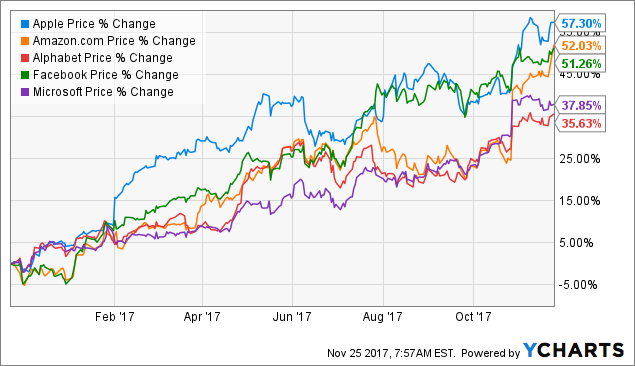 AAPL data by YCharts
In order of performance over the past 12 months, it has been:
Apple
Facebook (NASDAQ:FB)
Amazon.com (NASDAQ:AMZN)
Microsoft (NASDAQ:MSFT)
Alphabet (NASDAQ:GOOG) (NASDAQ:GOOGL).
That AAPL is the one-year performance leader may not be widely known.
AAPL: Buffett's choice
Berkshire Hathaway (NYSE:BRK.A) (NYSE:BRK.B), of which Warren Buffett is CEO, has added AAPL to its small group of highly overweighted stocks. This group favors stable (usually) consumer-facing names such as Coca-Cola (NYSE:KO), Wells Fargo (NYSE:WFC) and AmEx (NYSE:AXP). When Mr. Buffett went for a business-to-business tech company, IBM (IBM), several years ago, he erred.
I do not know if in choosing AAPL, his staff was asked to focus on tech, but Buffett has said this year that it was a close decision between AAPL and GOOGL. He chose AAPL due to greater predictability of outcomes, with less technology risk (AAPL also pays a dividend, which is important to an insurance company). In speaking of predictability, he pointed to AAPL's strong consumer franchise and downplayed its tech chops.
Mr. Buffett has long recognized the importance of market position and brand excellence in contrast to the changeability of technology. Thus, after intensive analysis, he believes that AAPL has an investable margin of safety apart from its operation in the tech field. With the IBM "miss" staring him in the face, this decision to go long a lot of AAPL could not have been taken lightly. I suspect that the Buffett decision has been reverberating in the minds of both large institutional investors and individual investors alike. As the old brokerage ad went, when Warren Buffett talks (and invests), people listen.
However, there is another simple driver of investment value that even though Buffett believes in paying up for quality, he also appreciates. Namely, AAPL is relatively cheap. How cheap? I went into this in detail several weeks ago in an article explaining that AAPL could be worth $300 right now when comparing its valuation to that of some alternatives. AAPL closed Friday at $175. Thinking to year-end 2017 numbers, I would subtract $15 from that to normalize AAPL's net cash stash (including other liquid assets) to that of comparable DIA and S&P 500 (SPY) companies, thus giving an adjusted AAPL price of $160. Then, using ETrade (ETFC) numbers, I project $12 EPS for next calendar year (slightly above consensus). That would imply a cash-adjusted forward P/E on calendar 2018 numbers of only 13.33X.
That P/E translates to a 7.5% earnings yield (reciprocal of the P/E). Given that AAPL has evolved a business model in which the capital spending is largely performed by its ecosystem partners, that would tend to correlate with the same 7.5% cash-on-cash return.
In contrast, the forward earnings yield of the S&P 500, also using GAAP as AAPL does, is about 4.6%, and not all of that is FCF, so it is of lower quality.
Since Buffett would expect AAPL's free cash flow yield to grow over time, it makes sense that he could commit it to Berkshire's permanent holdings and wait for time to prove out the choice. He gets a high starting earnings yield and the security of a tight ecosystem of products with hundreds of millions of customers who "re-enlist" in the AAPL system voluntarily year after year.
So far, I have described a plain vanilla Dow 30 stock with, recently, a choppy growth record. Maybe it's a good value in a highly-valued universe of financial assets. But why think of this stock avidly now, as Druckenmiller and Soros did with their BoE caper in 1992, especially given how much AAPL's price has increased off the bottom?
I proffer two reasons to consider AAPL as still being on an upswing. One is enough to look forward to a much higher stock price relatively soon. The other is a reason to look forward to a much higher stock price. This is conjecture now; it needs to be read in that context.
Base (bull market) case: nicely higher AAPL price by 2019
The thesis is fairly simple, namely that shares of most large strong companies are now getting 20X P/Es and higher. We see that with the slow-growing Johnson & Johnson (JNJ), which recently traded at 24X TTM P/E (all P/Es are GAAP). Slow-growth Wal-Mart (WMT) is trading above 25X. Slow-growth companies in the pharma industry without all the strengths of JNJ are almost all above 20X. This includes Bristol-Myers Squibb (BMY), Novo Nordisk (NVO), Pfizer (PFE), Merck (MRK), and Lilly (LLY). In some of these cases, the P/Es are above 30X (I use GAAP for all P/Es and am mostly relying on ETrade data; apologies for any errors). The list goes on and on. McDonald's (MCD) can only grow just so fast, yet it is at 24X. Procter & Gamble (PG), which has barely grown for years, is also at 24X. Pepsi (PEP) is also at 24X. KO is at 44X, but that's an anomaly, and will normalize in the 24X range as well soon enough if the price stays where it is (One notes a 24X pattern here in the P/E).
This pattern applies to many good but not extraordinary smaller companies, as well. A small supplier to the recreational vehicle industry, LCI Industries (LCII), is at 22X. Texas Roadhouse (TXRH), a small cap restaurant chain, is at 28X. Yum! Brands (YUM) is at the familiar 24X. Lancaster Colony (LANC), a small cap food company, is at 31X.
Amongst cyclicals, the same pattern of once-unusual P/Es is seen. One of my faves this year, Deere (DE), is at 22X. Illinois Tool Works (ITW) is at the familiar 24X. Even plain old railroads are in the 20X act. Norfolk Southern (NSC) and Union Pacific (UNP) are both in the 20-21X range.
MSFT, with several years of growth challenges in the rearview mirror, is at 28X, which does include some excess cash. Oracle (ORCL), which has seen organic revenues and profits decline until very recently, is at 21X.
Thus, something strange is occurring in plain sight that is little remarked about. It is the opposite of what the Fed and the Street have confidently been predicting since 2009. They have been predicting rising interest rates. Finance theory would then imply lower P/Es. Instead, my vision of "lower for longer" in interest rates has continued to be in force for long-term bonds. Once more, the Fed has raised short-term interest rates, only to run into the Greenspan "conundrum" of long-term rates staying flat. Stocks, as long-lived ownership interests in businesses, compete with bonds much more than with cash. With that comparison, blue chips and lesser companies are now cheap under almost any scenario relative to their own debt. AAPL's bonds maturing in February 2045 yield 3.66% to maturity (CUSIP #037833BA7). As stated, AAPL's forward earnings yield per consensus is over 7%. Even if that were not to change, i.e. AAPL's earnings never to rise, its stock would probably be more attractive than the bond. If you predict AAPL's FCF to rise at a 7.2% CAGR until 2045, AAPL's terminal yield would be over 50%, while the bond would still be paying out at 3.66%.
In the DoctoRx world view, this sort of reasoning is why JNJ and WMT, and MSFT and ORCL as B2B techs, can trade above 20X. Their FCF yields for the year ahead exceed the yields on their debt, and over time, the FCF yields are expected to grow, even if only slowly. The lower-for-longer bond scenario in place today benefits their P/Es.
Using the Buffett view of AAPL as a true blue chip, I think AAPL belongs there too and that it is reasonable to invest as though this is going to happen (Or, if P/Es drop, AAPL may be relatively insulated from this trend reversing, relatively being key).
Looking forward to March 2019, if AAPL reports about $12 EPS for CY 2018, a continued lower-longer interest rate scenario can easily support a P/E on SPY around 21-22X TTM GAAP EPS, and higher. If so, AAPL at 20X is no stretch at all. That would suggest an AAPL price of $240 per share in Q1 2019, implying alpha for AAPL.
That's my first, base bull case. If it's correct, some amount of Sorosian aggressiveness toward this stock would pay off well.
Now here's a somewhat more aggressive bull case.
AAPL as growth stock once more, part 1: less obvious successes
Not everything at AAPL ties into the big guns. Hints of progress can be seen elsewhere.
Apple Music
Just as one example of a small part of AAPL that few think about, look at this growth path for Apple Music, from Horace Dediu on October 4: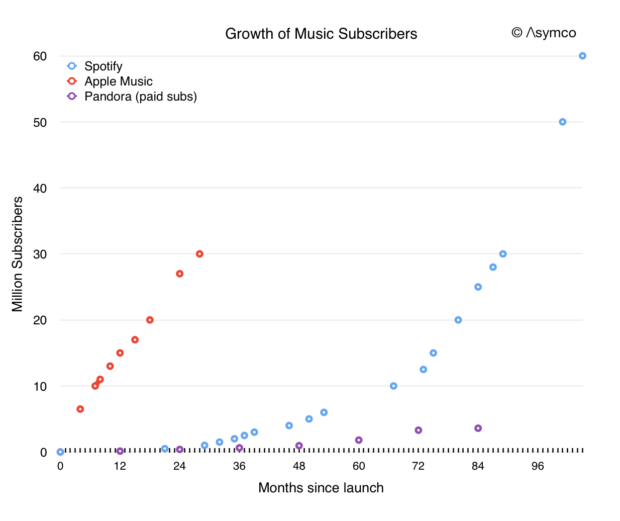 This is impressive growth for Apple Music.
Now think back to how quickly this service was dismissed as a "meh" effort soon after launch. Yet the above growth rate, if it continues, means higher corporate profits and a stickier ecosystem: synergy (It also means that AAPL may again be succeeding in a sector where MSFT has… well…: Zune, we hardly knew ye).
Apple Watch
Here's another potential big success in the making which may generate rapidly growing profits from sale of the product along with increasing app sales, all the while strengthening the AAPL ecosystem. From Above Avalon, this graph is taken from a lengthy blog post. The Apple Watch may have been surging before the untethered Watch was released: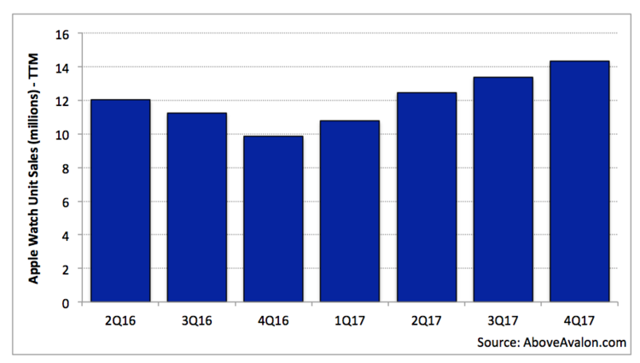 Again, once the Watch sales stagnated, the Street forgot about it. But the Watch may add 2-3% to AAPL's sales annually for the next few years if sales do what I think they may do. As Neil Cybart says in that blog post:
There is no smartwatch market. After more than two-and-a-half years of competition, it is clear that Apple Watch doesn't have much genuine competition.
Now let's look quickly at the growth potential for the Big 3 AAPL products.
AAPL as growth stock, part 2: iPhones poised for growth again
The smartphone is becoming more central to the lives of people globally. This makes the iPhone increasingly important.
The US-centric data coming from ChangeWave Research (which I see regularly as a panelist) continues to show that a higher percentage of Android owners are switching to iPhone than vice versa. Fluent has found the same thing. Since there are more Android than iPhone owners, this creates a gravitational pull toward AAPL; again, this is US-centric data, but the trend may scale globally.
It is also possible that iPhones, getting increasingly capable, are undervalued, as Horace Dediu (again) points out (emphasis added):
More important however is that the iPhone remains priced at about $1/day… the value users perceive is very high. The most expensive iPhone costs about 8 cents per hour of use, 1.4 cents each time you unlock it and 1 cent for every 25 interactions you have with it (touches or taps). On a per use basis the iPhone is extraordinarily cheap. I know of no consumer product that is cheaper.
Not only that, but also as augmented reality becomes a normal part of the iPhone experience over time, I expect that smartphones will become virtually indispensable to modern life for a great many people, and that the iPhone could replace Android as US market share leader (and elsewhere) – on AAPL's terms.
That's an intermediate term perspective. Markets also respond to headlines, and the iPhone X created quite the buzz, with the return of lines at AAPL's stores upon its release.
When iPhones have a super reception in South Korea, home of Samsung (OTC:SSNLF), then AAPL is doing something right. This all makes the recent spewing of FUD from the mainstream look ridiculous. From Fortune on October 20:
As TechRadar says in its review of the iPhone X, getting it right:
Our Verdict

The iPhone X was a huge gamble from Apple, but one that really paid off… this is the closest to smartphone perfection Apple has ever got.
If sales of the X are indeed strong, the Dediu argument may be coming into play; the iPhone may be if anything underpriced (This was a similar argument OPEC used to jack up the price of crude oil from $3/barrel in 1971 to $12 in 1974, then the $30s by 1979-80). This concept also implies that average selling prices for the iPhone could rise faster than Mr. Market thinks.
So, a key part of the AAPL story could be that the return of lines for a smartphone – a phenomenon that looked to be a thing of the past – could presage long and strong AAPL stock moves as in 2010-2, when lines were also seen.
The theme that AAPL products could regain unit market share, beginning with but not limited to the iPhone, is continued in the next section, covering AAPL's two other leading product lines.
iPads may follow iPhones; Macs attack
The iPad may be set for greater things, based on the iPhone X and recent sales momentum for the iPad. The iPad is stellar as is before upgrades that may come soon. E.g., TechRadar gives the new 2017 iPad the same 5 Star rating it gave its predecessor, the iPad Air 2.
With iPad sales growing again, we can see that much of the sales stagnation was due to their durability. Our iPad 2 lasted from March 2011 until last year, and it still works, though it's poky. The iPad line-up is strong now; our iPad Pro is a thing of beauty. My conclusion: the iPad is a very valuable franchise. (Let's see how much people begin using it as a laptop replacement).
The aging Mac line showed nice growth last quarter. I don't know why, but that is welcome. AAPL has finally begun refreshing the Mac. The iMac Pro, out soon, marks an impressive reset for this flagship product. The rest of the iMac line and laptops are due for upgrades.
I have had a bullish view of the long-term potential of the Mac for at least five years, and trends may be moving to place the Mac back in the picture, especially in households. Please consider these reasons:
1. Streaming. As the world moves to streaming video, powerful desktop computers with big beautiful displays gain an important new use.
2. Storage of photos, video, music. You have taken baby photos, videos of your child in action in a sports setting, etc., with your iPhone. Now what? Move them to the Cloud, where you pay storage fees endlessly? A better, or parallel, solution is to store them on the Mac. Beyond sight, there is sound, i.e. permanent storage of music. Again, it's there, close at hand, not needing to be downloaded from the Cloud.
The more we use iPhones to create our own media, the more the Mac comes in handy to store that media.
3. Limitations of mobility devices. Smartphones and the iPad Pro are just not able to do all that a full-size home computer can do. Information is found and displayed faster and better on a desktop computer, or at least a well-powered laptop. The more we use mobile devices, the more we recognize their limitations as well as their capabilities.
AAPL is on an even playing field against Windows in the above uses, none of which tie into the Office ecosystem. AAPL oversees the design of silicon, designs its displays and overall product configuration, and thus can and usually does provide the best products. Further, with MSFT now competing with its Windows licensees, what is the incentive for it to invest heavily to also compete with AAPL?
So I look at Macs as having some growth potential for the indefinite future, and if things break AAPL's way, they might even gain greater traction in the enterprise. Maybe 2018 will be the year that AAPL takes Macs to a new level.
AAPL is in the odd situation for the market's leader is that it has minority market share in all its major markets. A little market share growth in AAPL's mature product lines along with more rapid growth in Services, Watch, etc. could go a long way toward growing profits faster than Mr. Market expects. The recent upgrades of the iPhone and the Watch, along with the advent of augmented reality in iOS 11 and the latest iPhones, may augur well for an ongoing important round of upgrades in the Mac and iPad lines.
If AAPL gets viewed as a growth stock again, I would think about traders in 2019, noting its cash stash, giving it something like a 24X P/E on, say, $12 or $12.50 CY 2018 EPS. That implies a massive $300 price target. Can it happen? Yes. MSFT's stunning P/E ascent shows it can.
Concluding points – two winning scenarios for a Sorosian approach to AAPL
But a final thought comes from this walk down memory lane. If I remember correctly, James O'Shaughnessy's book What Works on Wall Street reported that if you were looking for a stock that would double in the year ahead, your best bet was one that had just doubled; the same for a triple. It was back in or around 1999-2000 when I read the book; even if I am remembering correctly, matters might have changed. But with AAPL up so much from its lows, this sort of thinking may be relevant. AAPL may be rising for two reasons. First, to summarize, Warren Buffett may have anointed AAPL as just as deserving of that now-unremarkable 24X P/E as so many other stocks that also carry risk of various kinds. If so, Mr. Market may trend AAPL's P/E upward on a cyclical manner. I'm looking out for that possibility being actualized. Second, my bigger bull case involves thinking of the flow of business at AAPL. Here, macro trends may indeed favor AAPL, which itself may be in the midst of an important, exciting new wave of products with long product lives. If so, then AAPL's relative P/E versus its tech peers (does it really have many/any peers?) may be due for revaluation upward, providing alpha within the sector.
In either of these scenarios, thinking of the Soros quote to go big in an investing concept one believes in merges with the Buffett view that AAPL is truly special (as many of us have been saying for some time). This could lead to not what we have gotten used to with AAPL the past few years, namely almost as many steps backward as forward, but steadier upward movement of the share price. If some techs look as though it is 1999 all over again, AAPL looks more like 1997 with tailwinds blowing. No guarantees, but for what little it's worth, I'm on board with Buffett on AAPL (and even more than he is assuming), and I'm thinking seriously about the Soros philosophy.
Thanks for reading and sharing any comments you wish to contribute.
Disclosure: I am/we are long AAPL, AMZN, BMY, DE, GOOGL, MSFT, NVO, ORCL, WFC.
I wrote this article myself, and it expresses my own opinions. I am not receiving compensation for it (other than from Seeking Alpha). I have no business relationship with any company whose stock is mentioned in this article.
Additional disclosure: Not investment advice. I am not an investment adviser.