Omega Delivers Alpha, But No Dividend Growth In 2018
February 15, 2018 6:00 pm
As the last letter of the Greek alphabet, Omega is often used to denote the last, the end, or the ultimate limit of a set, in contrast to alpha, the first letter of the Greek alphabet. Hopefully, Omega Healthcare Investors (OHI) will soon end its streak of price declines and start delivering alpha for investors, of which I am one.
As illustrated below, Omega has seen a dramatic decline in its share price, commencing October 2017 (shares have declined by ~18% since then).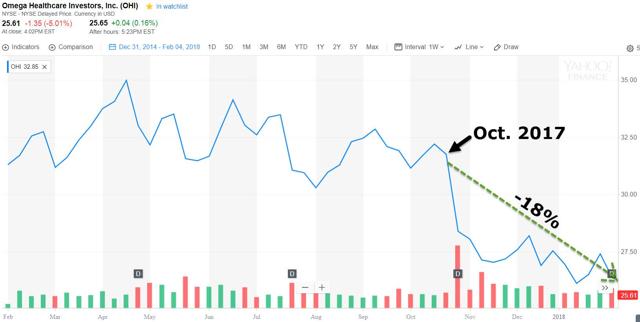 As evidenced by the snapshot below, Omega shares have not been this cheap in quite some time: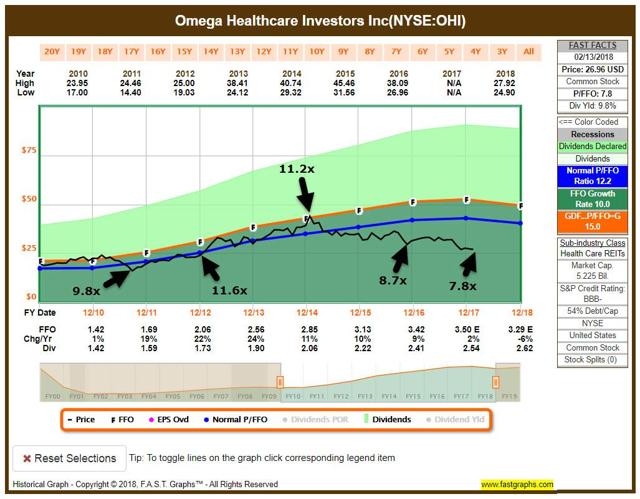 Also, based on this metric (below), Omega has not seen a 10% dividend yield in quite some time: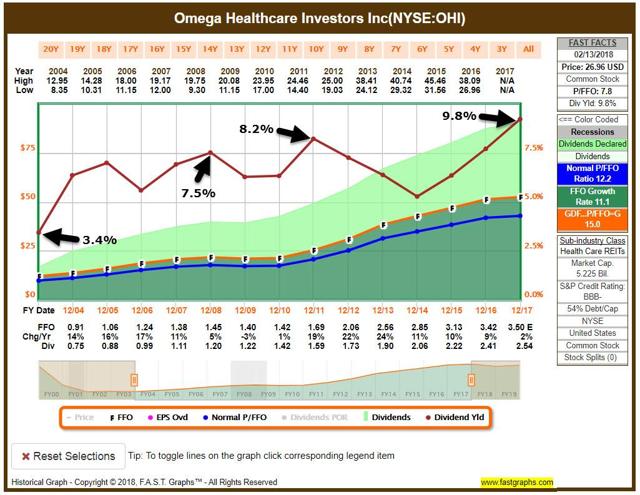 As many readers know, I have been covering Omega for a number of years, and some have even called me the company's biggest cheerleader. Just take a look at few articles over the years:
April 2012: "The consistency in dividend performance is the attraction to the Omega Healthcare platform. With 10 years of increased dividend performance, Omega is considered an exceptional REIT and the current dividend yield is 7.8 percent."
April 2013: "Since January 2012, Omega Healthcare Investors shares have climbed from around $19.00 to a recent close of $32.00. That's a whopping 62% increase. Adding the dividend yield (currently 5.63%), Omega has returned an extraordinary 78% in just over fifteen months."
December 2015: "I am maintaining a BUY rating on OHI shares and the 2015 performance record further validates my outsized exposure in the leading SNF REIT."
July 2017: "Eventually, the skilled nursing sector will fall back in favor, once the industry rationalizes, and the weak hands fold. As you have heard me say before, "the cream always rises to the top".
January 2018: "To be clear, the true drivers for the skilled nursing sector are demographics, and in many of the bearish articles on Seeking Alpha (and other sites), writers simply overlook the argument that 65+ aged cohorts are "projected to more than double from 46 million today to more than 98 million by 2060."
To be clear, for a buy-and-hold investor, I will acknowledge that owning shares in Omega has been a bumpy road, and since October 2017, the journey has been even bumpier. Yet, value investors are good at taking control of the wheel when times are tough, when they follow the guidelines that point you in the direction of good stocks.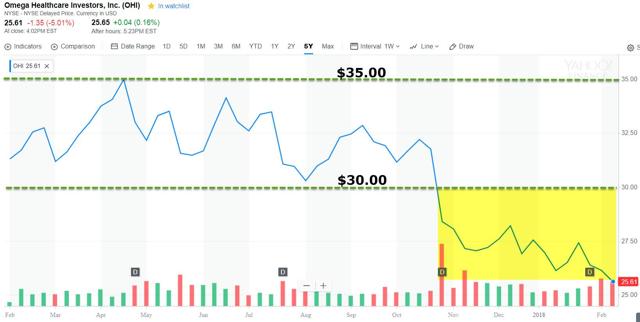 Recognizing when shares are trading below their intrinsic value is one of the secrets to being a successful investor because chances are that shares will ultimately be recognized and the market price will rise to a level more indicative of the company's worth. After all, getting in at the bottom of a stock market cycle produces better returns than getting in at the top.
One of the secrets to making money in the stock market is to look closely at the consistency of profit margins. Investors should never look at the yield until they have analyzed the ability for the divided to grow and the overall merits of the stock. That is the purpose of my article today…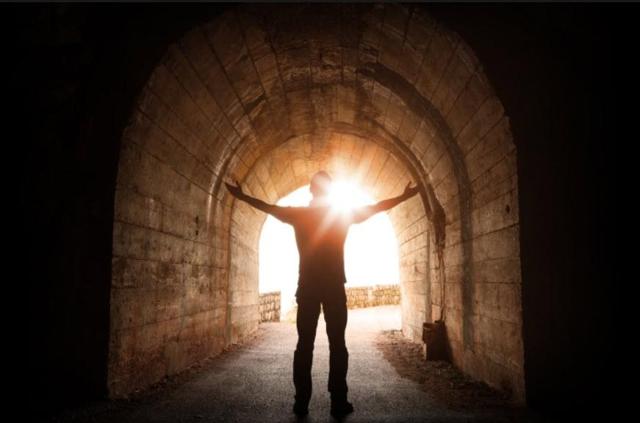 Omega's Business Model
As of December 31, 2017, Omega had an operating asset portfolio of 973 facilities with approximately 98,000 operating beds. These facilities were spread across 74 third-party operators and located within 40 states in the United Kingdom (central London and the southern and eastern regions of England).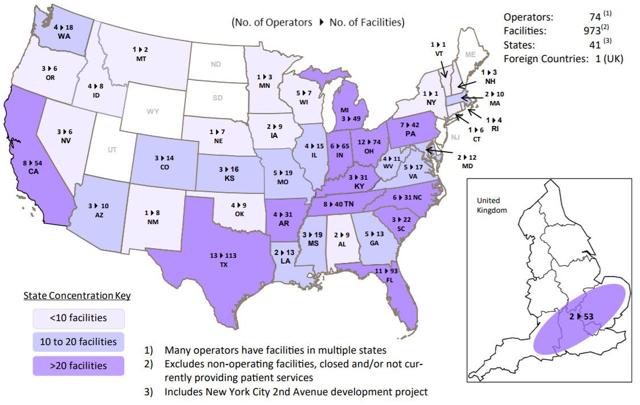 OHI is one of the largest healthcare REITs and is one of the most diversified "pure play" Skilled Nursing REITs. The company has long-term, triple-net master leases with cross collateralization provisions and most operators have strong credit profiles (with security deposits of three to six months). As of Q4-17, Omega had 83% of investments in skilled nursing and 17% of investments in senior housing: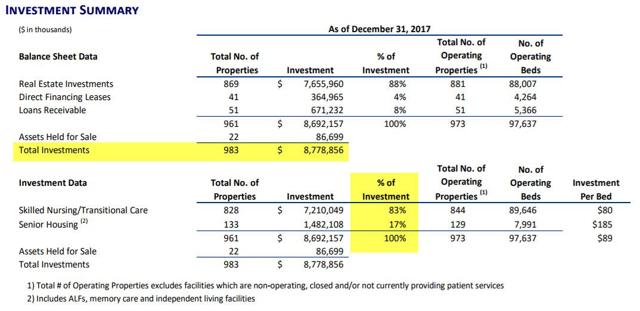 OHI's revenue consists of Medicaid (51%), Medicare (37.3%), and Private Pay (11.7%). Since the leases are triple-net, property level expenses are operator's responsibility (labor, insurance, property taxes, capital expenditures). Omega receives fixed rent payments from tenants, with annual escalators, and operators receive revenues through reimbursement of Medicare, Medicaid, and private pay for services.
Most of the negative news regarding the reliability of Omega's rents is related to the company's operators. Several skilled nursing operators have experienced pressure and this has resulted in a deterioration in earnings. Here is a snapshot of Omega's top operators: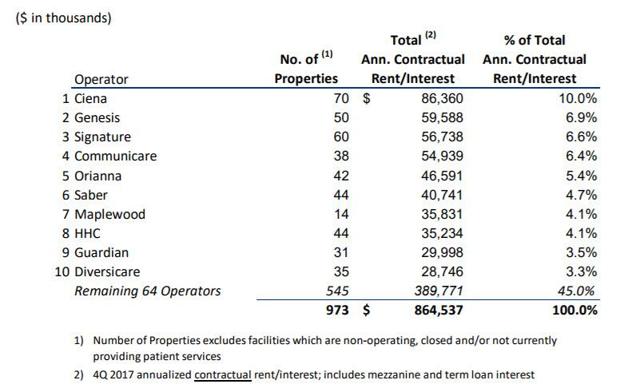 Peeling Back The Onion
As you can see, Omega has a diverse platform, and as the company continues to grow, it will reduce its exposure to one tenant/customer. However, the pressure on the company's stock is directly correlated to issues with several of these top tenants.
Orianna (formerly referred to as "Ark") is Omega's #5 tenant/operator. Last year, I explained that "this operator has continued to experience quarterly pressures, despite finally showing signs of operations improvements." In another article last year, I explained that "My back-of-the-napkin analysis suggests that the worst case for Omega is to reposition all of the Ark properties and rent them out for $35 to $38 million. At the midpoint this re-trade would cost Omega around $.01/share in quarterly FFO."
On the earnings call yesterday, Omega management said:
"We are in active confidential negotiations with Orianna and remain confident that our post transition restructuring rent or rent equivalent in the event of asset sales will be in our previously stated range of between $32 million and $38 million. We hope to reach a final agreement with Orianna in the next several weeks. We plan to press release the details at that time."
Check the box, just what I expected…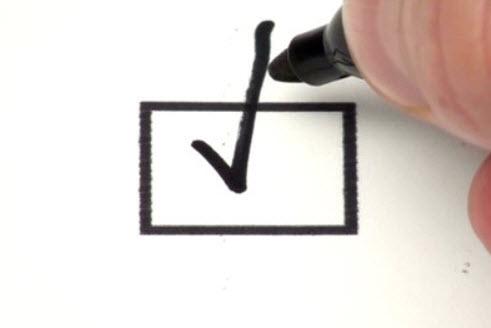 Signature Healthcare, OHI's #3 operator, leases around 100 properties (60 leased to Omega), and in a recent article, I explained that "the physical assets themselves and strong markets within which they are located provide comfort in the long-term longevity and future success of these facilities."
On the earnings call yesterday, Omega's management team said that "since the last earnings call, considerable progress has been made toward finalizing a comprehensive agreement among Signature and Signature's three primary landlords, which will effectively bifurcate each of the three portfolios into three distinct legal silos and separate virtually all legal obligations.
As part of those agreements, Omega has agreed to differ certain rent payment obligations, improvise its working capital, while remaining cautiously optimistic that a satisfactory global restructuring with all constituents will be finalized in the near future. Such restructuring remains contingent upon Signature's successful resolution of its material PLGL claims."
Signature is currently paying approximately 75% of its monthly contractual rent; as a result, its receivables balance continues to grow. As of December 31, Omega had approximately $21 million in contractual receivables outstanding, which is partially offset by $9.3 million letter of credit as well as significant personal guarantees. The latest news with regard to Signature is no surprise, and I fully expect Omega to mitigate the risk without eroding value.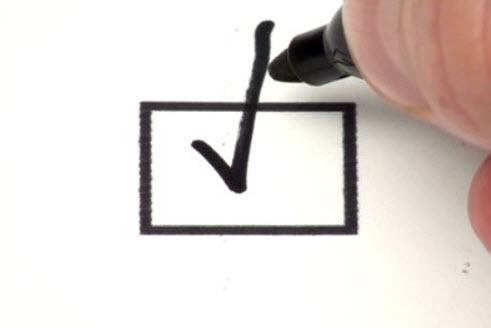 Daybreak is another tenant/operator that does not appear in the top 10 list. The company said on the recent earnings call that it entered into a settlement on forbearance agreement during the fourth quarter that resulted in rent payments in the fourth quarter paying approximately 77% of contractual rent.
Omega said that "Daybreak had made considerable operational improvements over the last six plus months, including increase in the average Medicaid rate, reducing their corporate overhead by nearly a four percentage point…"
Another one of Omega's top 10 operators, Preferred Care, filed Chapter 11 bankruptcy as a result of $28 million jury award in the state of Kentucky and the overwhelming number of personal lawsuit's initiated against such operators in both states.
While Omega has no exposure to Preferred Care in Kentucky, Omega currently leases 16 facilities to Preferred Care in New Mexico, Texas, Arizona, and Oklahoma.
In November 2017, Omega and Preferred Care entered into a transition agreement related to all 16 facilities, and Omega identified operators for each state and separate transition processes are currently underway. It's expected that all 16 facilities will be released to current Omega operators under longer term leases with enhanced credit profiles.
This is not new news, and in addition to these tenants discussed, Omega continues to work with its operators to divest, re-lease and/or close facilities in order to ultimately strengthen its overall portfolios. Accordingly, Omega has repositioned a number of assets within its portfolio, providing a recognizable catalyst that supports my continued BUY recommendation.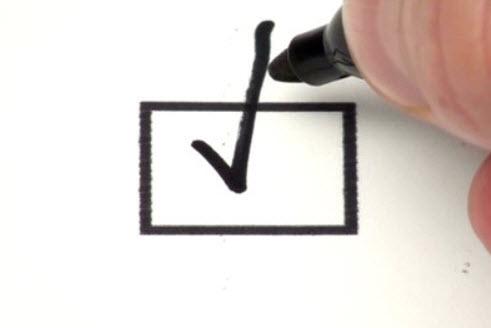 Repositioning Assets, the Key to Growth
On the recent earnings call, Omega's CEO, Taylor Pickett said that "strategic asset repositioning, as healthcare delivery continues to evolve we continuously evaluate our assets, our operators and our markets to position our portfolio for success, not just in the near term, but over the next decade."
Omega's strategy includes selling and transitioning assets that do not meet operator, real estate or market criteria. Omega expects resulting portfolios to have improved coverage and provide significant growth opportunities and long-term durability.
As part of Omega's strategic repositioning during Q4-17 and year-to-date 2018, the company disposed of $224 million of assets and is evaluating over $300 million in potential assets to sell in 2018.
The revenue reduction related to the $224 million in assets disposed is $24 million, while the trailing 12 months cash flow on these assets was only $19 million. The cash flow on these assets did not cover the underlying rent, yet, Omega was able to achieve sale proceeds to equate to yields (cap rates) of 10.7%. As Pickett pointed out,
"the strong sales results to date reflect the continued appetite for SNFs assets by local market private buyers."
Pickett added that "the acquisition market remains choppy and to date is not particularly robust. However, as we've seen through several cycles in the SNFs industry, there tends to be a significant uptick in mergers and acquisitions as down cycles come to an end. I would expect to see meaningful growth opportunities later in 2018 and moving into 2019."
During Q4-17, Omega completed $71 million in new investments consisting of $40 million purchase lease transaction for six Skilled Nursing facilities in Texas and $31 million in CapEx spending. New investments for all of 2017 (inclusive of CapEx funding of $145 million) totaled $530 million. The acquisitions consisted of the 45 facilities with 4,320 operating beds.

Building a Better Balance Sheet
As referenced above, Omega is evaluating over $300 million in potential asset disposition opportunities which could occur over the next several quarters. The company's balance sheet remains strong, as of Q4017, the net debt to annualized EBITDA was 5.87x and the fixed charge coverage ratio was 4.1x.

Note that EBITDA in these calculations has no annual revenue related to Orianna or Daybreak. When adjusting for the likely range of expected rental outcome from Orianna, including expected cash received from Daybreak in addition to a moving revenue related to our Q4 sales, the pro forma leverage will return to its normal range of less than 5x.
Omega has significant liquidity: $1.25B revolving credit facility with $900 million of availability. As illustrated below, the company has well-laddered debt maturities (no material maturities until 2022, assuming allowable credit facility extensions).

Omega minimizes encumbered assets (0.8% of Total Assets), providing the company with exceptional flexibility. The company is rated BBB- by S&P, and the robust credit metrics provide an adequate buffer against the possible effects of tenant-related operating headwinds amid Medicare reimbursement changes and regulatory/licensing risk.
The Latest Earnings Results
Omega's overall occupancy has remained fairly steady over the last six quarters. The company's CEO said yesterday that it "believes that this is just the beginning of a long term positive trend across all markets." He went on to say,
"Our best intelligence is that by 2019 we should start to see an upward senses trend in a significant number of markets. Our emphasis will be growth in these markets, which is consistent with our ongoing repositioning efforts."
Omega has an extremely experienced management team that has navigated through several industry cycles including the late 1990s. The current environment although not favorable is not remotely close to the problems that the company faced and solved in the late 1990s and early 2000s.
In Q4-17, Omega reported FFO on a diluted basis of $159 million (or $0.77 per share), as compared to $172 million (or $0.84 per share) for Q4-16. The company's adjusted FFO was $164 million (or $0.79 per share for the quarter) and excludes the impact of approximately $3.9 million of non-cash stock-based compensation expense, $900,000 in provision for uncollectible accounts, $500,000 of one-time revenue, and $200,000 in impairments on direct financing leases.
Operating revenue for Q4-17 was approximately $221 million versus $235 million for Q4-16. The decrease was primarily a result of placing Orianna and Daybreak on a cash basis in Q3-17 and therefore, recording no Orianna or Daybreak revenue in Q4-17.
The decrease in revenue was partially offset by incremental revenue from over $375 million of new investments completed in 2017. The $221 million of revenue for the quarter includes approximately $15 million of non-cash revenue.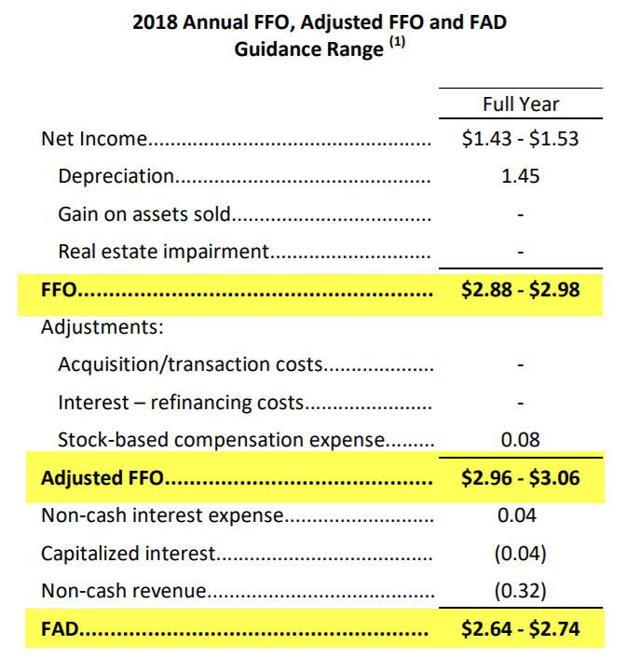 For 2018, Omega's adjusted FFO guidance is $2.96 to $3.06 per share, while the FAD guidance is $2.64 to $2.74 per share. As Pickett explained, "Timing will play a big role on our guidance as asset sales reduce adjusted funds from operations and the longer it takes to redeploy capital the longer it takes to restore this AFFO in our quarterly run rate."
Omega expects that its quarterly AFFO results will trend upwards throughout 2018, providing the company with a solid baseline run rate as it heads into 2019. Now let's get down to the business of the DIVIDEND…
Is The Dividend Safe?
Omega enjoys an unprecedented streak of 22 straight quarterly dividend increases, wherein the company increased the dividend from $0.43 per share to $0.66 per share, 53% over 5 ½ years.
The quarterly dividend growth was predicated on and driven by Omega's consistent FFO growth. Pickett pointed out on the earnings call yesterday,
"As a result of our strategic repositioning activities, 2018 will not be a growth year and therefore we do not expect to increase the dividend during 2018."
Pickett added,
"I want to be very clear that we are very confident in the payout percentage coverage and the sustainability of our current dividend of $0.66 per share per quarter. With the current yield of 10% and our strong beliefs with the headwinds we've been battling are beginning to subside. We believe we're well positioned to deliver substantial shareholder returns over the next five years."

Don't worry, I'm not running away just because Omega is not giving us a dividend bump in 2018. The company could have engineered a cosmetic dividend increase, but the yield is already obsessively juicy. I spoke with Taylor Pickett after the earnings call today and he said, "our FFO will improve through 2018 and we have great visibility over the next six months". He added that demographics are the primary catalyst and "we think we" see a (demographic) push in 2019."
Omega has seen tough times before, and the company has responded favorably. As Pickett said,
"We own the most SNF properties. We have the most geographic diversity. We have the best decision-making data. We have the best in class high-end assisted living operator in Maplewood with a significant growth trajectory. And we have significant growth opportunities in the UK. And lastly, we have a deeply experienced and engaged board and management team committed to capitalize on these advantages with a view to long term shareholder value creation."
I'm sticking with Omega… because I'm a value investor. That simply means that sometimes I have to go against the herd and even risk being called a dummy. Buying stocks when they are cheap has been the best way to build wealth in the stock market, and companies that are on sale reap the highest returns.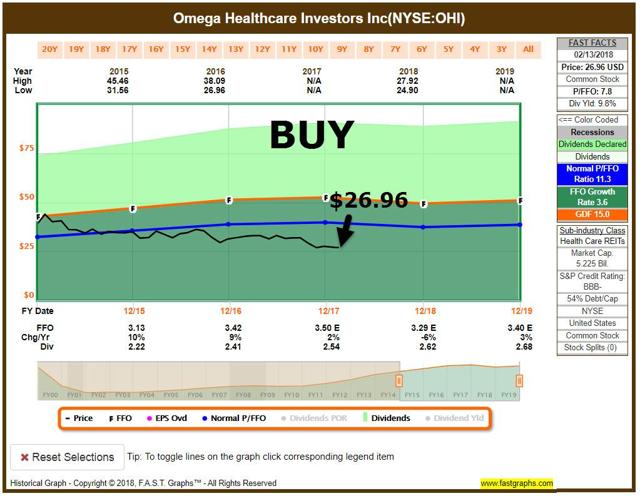 Note: Brad Thomas is a Wall Street writer, and that means he is not always right with his predictions or recommendations. That also applies to his grammar. Please excuse any typos, and be assured that he will do his best to correct any errors if they are overlooked.
Finally, this article is free, and the sole purpose for writing it is to assist with research, while also providing a forum for second-level thinking. If you have not followed him, please take five seconds and click his name above (top of the page).
Source: F.A.S.T. Graphs and OHI Investor Presentation.
We have published (exclusively for Marketplace subscribers) the all-new KISS REIT portfolio, including our recommendations and highly sought-after Rhino REIT Ratings. In addition, we have all portfolios updated in real-time and other leading REIT metrics.
REITs should be part of your daily diet and we would like to help you construct an Intelligent REIT portfolio, utilizing our portfolio modeling strategies.
The Intelligent REIT Investor is the #1 REIT Research site on Seeking Alpha. Brad Thomas and Rubicon Associates have a combined 40 years of investing experience. We publish exclusive research content on over 100 REITs, and our Durable Income Portfolio has returned over 12% YTD. We recently announced that the Small Cap REIT Portfolio has returned over 20% YTD.
Our service includes weekly property sector updates and weekly Buy/Sell picks. We provide almost all research to marketplace subscribers and we also provide a "weekender" report and a "motivational Monday" report. We stream relevant real-time REIT news so that you can stay informed.
There is absolutely no reason to chase yield… let us do all of the heavy-lifting so you can "sleep well at night". Subscribe here.
Disclosure: I am/we are long ACC, AHP, APTS, ARI, BRX, BXMT, CCI, CHCT, CIO, CLDT, CONE, CORR, CUBE, DDR, DEA, DLR, DOC, EPR, EXR, FPI, FRT, GEO, GMRE, GPT, HASI, HTA, INN, IRET, IRM, JCAP, KIM, LADR, LAND, LMRK, LTC, MNR, NXRT, O, OFC, OHI, OUT, PEB, PEI, PK, PSB, QTS, REG, RHP, ROIC, SBRA, SKT, SPG, STAG, STOR, TCO, UBA, UMH, UNIT, VER, VTR, WPC.
I wrote this article myself, and it expresses my own opinions. I am not receiving compensation for it (other than from Seeking Alpha). I have no business relationship with any company whose stock is mentioned in this article.