Roku: Time To Buy Again
November 9, 2018 6:00 am
After the bell on Wednesday, streaming media company Roku (ROKU) announced its third quarter results. The company beat on the top and bottom lines and again raised its yearly guidance, yet the stock sold off on the news. As this business continues to grow and repeatedly impress, the pullback makes the name quite attractive again.
The company reported revenues of $173.4 million, up nearly 40% over the prior year period and beating estimates by more than $4 million. On the bottom line, a 9 cent per share loss beat by three cents. While player revenues handily beat estimates, platform revenues fell about $3 million short of expectations, and this is the more important part of the business moving forward. This also lead to ARPU (average revenue per user) coming up shy. While Roku has beaten top and bottom line estimates every time it has reported since going public, this was the smallest beat as seen below.

(Source: Seeking Alpha Roku Earnings page, seen here)
Overall, Roku continues to make progress. The chart below shows how active accounts have soared, up 7.1 million in the past 12 months. At the Q3 2017 report, the year over year gain was 5.4 million. This was the first quarter where platform revenues topped $100 million, and this is the higher margin side of the business. As platform revenues become more of the company's total, overall gross margins rise even though platform margins are down, so the total gross margin jump was 560 basis points year over year.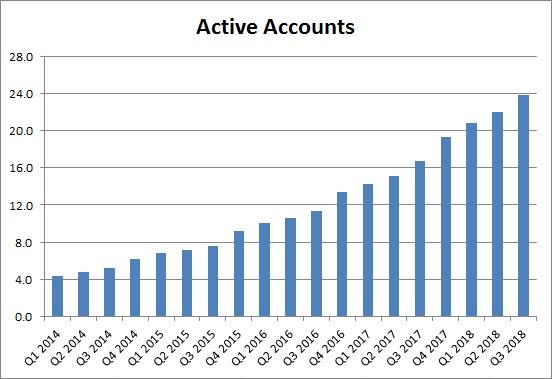 (In millions. Source: Q3 2018 shareholder letter and S-1 filing from 2017)
The company's overall loss did increase a bit thanks to higher operating spending to support the growing business, but Adjusted EBITDA swung from a negative in last year's period to a positive in Q3 2018. Roku also finished the quarter with about $180 million in cash and investments against no debt, meaning the balance sheet is quite strong. I do not see a need to raise additional funds unless the company wants to make a big acquisition or some major capital expenditure.
One of the things I like the most about Roku is that management continues to raise guidance. As you can see in the table below, every guidance item for the full year 2018 is well above where the original forecast was. Should the company's progress continue in the near term, we could see more than $1 billion in revenues next year, and perhaps a profit too depending on spending.

(Source: Roku quarterly reports, seen here)
Thursday actually marks one year to the day when I first covered Roku, at which point shares were less than half of where they stand now. I was a big fan of the company's growth, and results have only improved since. Shares that were in the teens skyrocketed to the high $70s, but they've lost a third of their value since then. My last article on the name came with shares in the low $30s, so those who bought on that pullback have done very well.
Since everyone likes to look at streaming giant Netflix (NFLX), I mentioned last year how Roku only needed to get 1/10th of Netflix's valuation to get to an $8 billion valuation. After the recent pullback, Roku is worth about $5.5 billion, but 10% of Netflix would be over $14 billion now, despite Netflix shares nearly $100 off their all-time high. With the revenue picture and account base growing quite strongly, I now think a $10 billion valuation for Roku is eventually possible. That probably equals a price in the mid to high $80s if you assume some dilution, mostly from stock based compensation, over the next couple of years.
In the end, Roku announced another strong quarter, but the street didn't totally like the results. The top and bottom line headline beats weren't as large as previous quarters, and platform revenues were a little short of estimates. However, the company continues to grow its active accounts base very nicely, and Roku should only be about a year or so away from hitting a billion in annual revenues. As streaming media becomes an even larger part of our lives moving forward, the recent pullback provides another good opportunity for investors to buy.
Author's additional disclosure: Investors are always reminded that before making any investment, you should do your own proper due diligence on any name directly or indirectly mentioned in this article. Investors should also consider seeking advice from a broker or financial adviser before making any investment decisions. Any material in this article should be considered general information, and not relied on as a formal investment recommendation.
Disclosure: I/we have no positions in any stocks mentioned, and no plans to initiate any positions within the next 72 hours.
I wrote this article myself, and it expresses my own opinions. I am not receiving compensation for it (other than from Seeking Alpha). I have no business relationship with any company whose stock is mentioned in this article.