Value Stocks In Short Supply – The Only 2 I Would Take
March 25, 2018 6:42 am
I recently wrote an article on 11 value stocks left in an aging bull market. Here are the results of my follow-up on those stocks that sifted out during the value screening. Two of them made it into the buy category, seven are put into the hold bucket, and the rest in sell.
The reason I decided to run this screen was due to indications the market was overheated, from a historical perspective, as I documented in my article Finding Value In An Overinflated Market.
My thought was I was unlikely to find a lot of good values in this market, and my results have thus far supported that hypothesis soundly. From the 11 screened earlier, here are my opinions on buy, wait, and sell.
Most of the wait category have companies that are in turnarounds after experiencing difficulties or are implementing new business models after some restructuring. Those could still be values but need to give time to see if business objectives are being met before taking a position in the stock.
BUY
Kelly Services (KELYA) provides workforce solutions to various industries worldwide.
Fourth Quarter YoY results showed an increase in revenue of 9%, gross profits up 15.4%, earning from operations up 43%, but reduced earnings per share of $0.06 down to $0.45 due to charges related to changes in tax law. Sans those changes, EPS were up 57% YoY, so the business is doing well. The following chart shows the revenue mix and growth.

Source: Kelly Services
The same source shows that year-end debt was up at $10 million due to the Teachers On Call acquisition. Teachers on Call provides substitute teacher staffing services and is complementary to the professional staffing services the company already provides.
Capital Cube shows that earnings growth, share and price appreciation exceed peer median, while dividend quality is on par.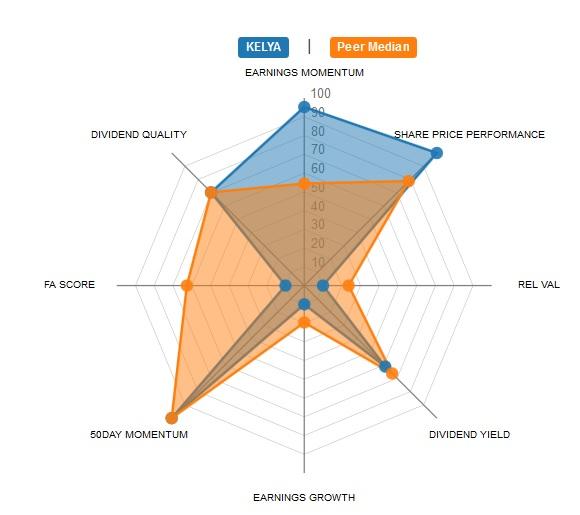 Source: Capital Cube
Capital Cube peer comparison shows that Kelly Services is trading more cheaply to book, earnings, and sales than its peers.

Source: Capital Cube
Kelly's dividend payout is below that of the peer category.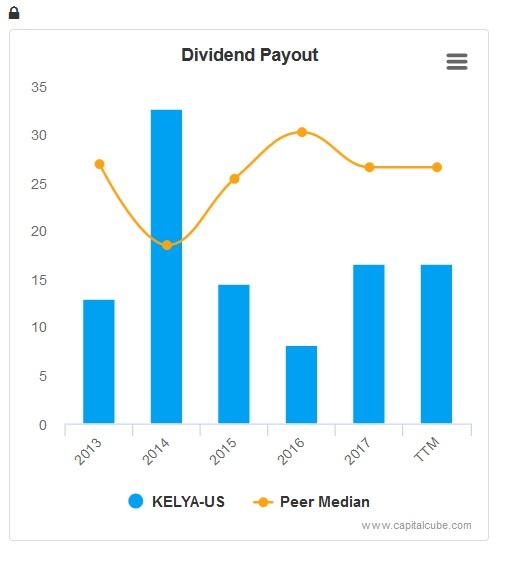 Source: Capital Cube
The current ratio is 1.5 but the profit margins are relatively low at 1.33%.
The stock price turned up in September 2011 and may be due for a cool-off period. However, the business model is still attractive as more part-time and temporary workers enter the economy.
The following chart from the BLS shows that part-time employment continues to increase in the US, and has increased substantially since the 2008 financial crisis. Part-time, project-based, and short-term staffing are a significant portion of the business for Kelly Services.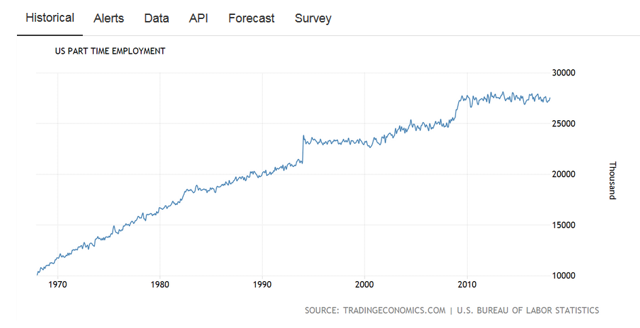 I believe that in the event of an economic downturn, demand for Kelly services will also likely increase as companies cut costs by ousting full time, long-term employees and turn to cheaper staffing services to fill the void. I believe the company will remain a solid buy for 2018.
—
Tech Data (TECD) is a wholesaler and distributor of computer products and software.
Recent annual results have Tech Data increasing revenue 49% YoY to $11 billion due primarily to the acquisition of Technology Solutions. Apple products dominate sales with 19% and no other vendor partner over 10%. So if Apple sales dip substantially, then it may affect profits for Tech Data. This relationship will be key to watch.
European sales increased 37%. The acquisition of Technology Solution added Asia as a regional segment and sales totaled $338 million. I see this last point as particularly bullish for Tech Data due to emerging market exposure and diversification away from US and European markets who may come under economic volatility pressures in 2018. EPS were up 43% to $3.50.
The company is invested heavily in the cloud market, which is their fastest growing, and no offers cloud services in 67 countries. The company is expanding into technology services with the Global Lifecycle Management Services Portfolio, which I see as very bullish as profit margins are likely to be higher in services than in some of the other segments which are more commoditized in nature.
Tech Data is trading below peers from a Price / Earnings standpoint.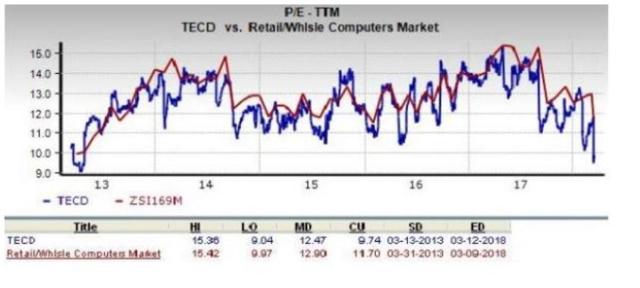 Source: Yahoo Finance
The company has a very strong balance sheet, with current ratio 1.26 but a relatively low profit margin of 0.32%, which is a key statistic to watch going forward. Still, the cash hoard of almost $1 billion leaves the company plenty of flexibility to maneuver economic downturns. Price to book is 1.07 and Enterprise Value / EBITDA is a modest 6.01. The company is undervalued by traditional measures.
Further, I believe that the technology space will grow as emerging economies continue to transition from industrial to information based. And with Tech Data's new exposure to Asia, a key growth market, prospects for increased sales are stronger in 2018 and beyond.
However, shares have plunged since March 8th on revised downward quarterly guidance due to increasing competition since last year. I think the fall was a bit dramatic, as tends to be the case on quarterly target adjustments, which provides investors a nice entry position for a longer term hold position.
Risks include the handcuff to Apple, the increased industry competition, and the relatively low short-term margins. However, I think the market in the longer term offers room for expansion should the company survive current competitive forces. Likely they will have to cut costs and streamline internal operations to stay competitive, but there is no reason to think this cannot happen. Maybe they should hire Kelly Services to reduce some of their staffing expenses!
Looking forward, Q1 results are typically the softest, according to management, with receivables back-loaded into later quarters. Therefore, I would recommend either taking a position now or waiting until the new quarterly numbers are out to take one.
This is a somewhat tepid buy recommendation, but I think the sell-off was overdone and hence my recommendation.
—
WAIT
Spok Holdings (SPOK) is a wireless communications provider that specializes in messaging and messaging software. The company has declining earnings within the legacy paging service portfolio, which places it in like company with many aging wireline service telecom companies who have similar declining legacy copper-based portfolios.
The paging service is declining, but due to attractiveness to emergency responders as the paging service is on a separate network from wireless smartphones, the declines in this market have been slowing. The software business revenues are increasing faster than the decline in paging services, so it appears Spok has executed on half their plan in paging services while continuing to expand the other half on communications software Spok Care Connect, for which growth has been particularly strong in the healthcare sector.
This company is going through a transition from traditional telecom to a software provider and I believe the potential growth in software market outweighs the slower 'melt-rate' of the paging business. In the medium term, the company should continue to grow overall revenues as a result.
The company has a lot of cash and a healthy balance sheet, having paid off long-term debt and also engaging in share buy-backs of late. The dividend is not high quality but there does not appear to be any near-term threat to it. The key question is how will Spok spend its cash on its next acquisition? Management says prior targets wanted multiples in premium which they are not willing to pay, which is no surprise in this overheated market.
There is both risk and value in this company. If the economy goes into recession, the company has the cash to make a well-timed cheaper acquisition, which is what I would do if I were them. If management stays patient, it can navigate the declining pager business, build up the software business revenues, and wait for cheaper, synergistic acquisition targets during the next recession. If they don't stay patient and pay too much for their next deal, then investors would be smart to bail out of this stock.
—
Celestica (CLS) provides hardware design, manufacturing, platform, and supply chain solutions. The company exited the solar panel business in 2016 and is restructuring through 2018 which has put pressure on margins and reduced net income. The big question is if the company finishes the restructuring and then focuses on building higher revenues. The company has announced share buybacks and this will support the share price around the $9.50 to $10 mark, which has served as a strong support level for the stock.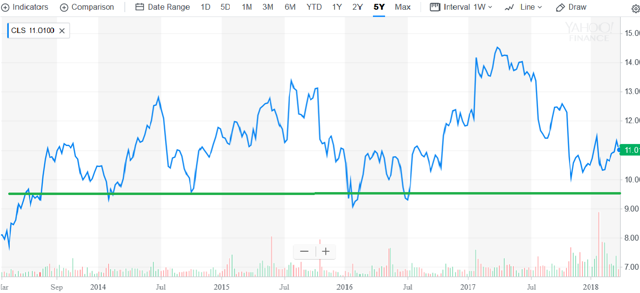 Source: Yahoo Finance
Risk with the company includes reliance on top 10 customers which generated 68% of revenue in 2017 in addition to the double-digit percentage losses in the communications silo. As my readers know from my past articles, telecommunications is experiencing margin compression and the after-effects of billions in mis-allocations of previous capital. Moving forward Celestica will need to diversify its customer base and expand regionally beyond the 70% share of customers in Asia to combat losses from the communications sector declines.
Hope comes from the military and aerospace sector as geopolitical risk increases and countries like China, Russia, and the US continue to steadily increase their defense spending budgets YoY. Out of 11 analysts, 9 have it as a hold, 2 as buy and 1 as strong buy which shows there is belief to the upside if the company can execute on the new business plan starting in 2018.
Price to book is 1.15 and Enterprise Value / EBITDA is 5.04. The current ratio is 1.94 and book value is $9.58, suggesting a bottom price for the stock this year before the eventual turnaround occurs. That would be my recommended entry point unless management reports better results next quarter, at which point we have likely hit the cycle bottom already.
—
Signet Jewelers (SIG) engages in retail sale of diamond jewelry, watches, and other products in North America, UK and Ireland, and the Channel Islands. The company's Zale's division runs the mall and outlet retail jewelry business.
The profit margin is 8.31% and operating margin is 9.25%. Return on assets is 5.82% and return on equity is 16.71%, which are healthy. The current ratio is 3.32, and Enterprise Value / EBITDA is 3.67 which are both excellent numbers.
Revenues, however, are falling steadily. Investors have posed three major criticisms, which are an alleged diamond swapping scandal with customers, sexual harassment story obtained from court documents, and using cheap financing to goose sales that would affect receivable quality, which has been confirmed by their recent non-prime receivable sale at below stated value.
The company is having to close stores and may be another victim of Internet business stealing brick and mortar store revenues. The company is buying back shares with cash which while it will support the share price and provide gains for shareholders, don't undress the underlying business weakness issues.
The company has plenty of cash but it needs to diversify sales channels and focus on profitable stores while closing down those that don't bring strong profits. Management has laid out a plan to do this and execution will determine whether, at this price, Signet is a true value or a value trap.
—
Sanmina (SANM) manufactures components and parts for several industries as well as providing repair and logistics services. Q1 2018 performance was disappointing due to customer order push-out at the end of the quarter, particularly in the communications sector as a result of transition from 4G to 5G wireless services. Automotive sector performance was down as well, though the company expects infotainment demand in automotive to continue to grow.
The company mentioned that Q2 is seasonally soft, so expect weaker financial performance during this quarter with performance improving in H2 of 2018. The company says the sales pipeline for industrial, medical, and defense sectors is improving. The IHS Markit Score is overall positive for Sanmina, with little bearish sentiment and output in the industrials sector improving.
Financially, the company is very solid. Current assets are enough to pay off all long-term debts, which is a true measure of stability in potentially turbulent economic periods. The company has positive cash flow and is using it to buy back stock, which is common in periods where companies expect market downturns. The buybacks strengthen share price and also pay back larger investors for their contributions before any market shocks occur.
Revenue is 3x market cap, price to sales is 0.28, price to book is 1.28, Enterprise Value / Revenue is 0.31, and Enterprise Value / EBITDA is 6.49. This is pretty much the definition of a value stock and the company is trading below what it should be. Forward P/E is a modest 10.11.
The sector is somewhat boring but stable. If the economy crashes, manufacturing could get hit hard. However, this company is already cheap. Risk is that sales fall in an economic downturn and the company burns cash; however, they should be able to weather the storm. I would wait for the weaker Q2 numbers to be published, let the stock price fall a bit, and take an entry point there waiting on a stronger expected second half if you are interested.
—
Super Micro Computer (SMCI) develops and provides high performance server solutions.
They are currently dealing with a lawsuit regarding failure to properly record revenues, did not maintain proper internal controls over financial reporting, revenues and income were improperly inflated, and issued materially false statements.
My recommendation as a former auditor: don't touch this one until the lawsuit is resolved. If the company is found to have materially misstated financials, then they are in trouble as this is a serious charge. There is no reason to buy this stock now until the matter is resolved.
Once resolved and the potential impacts are known, the stock might be cheap. It is currently trading at very modest multiples to book and sales, so I recommend waiting.
—
First Solar (FSLR) provides solar energy solutions with most sales in the US, Europe, and Asia. The company does most of its business in the US, and in the event of economic downturn, could really hit this company hard. First Solar should consider increasing sales in emerging economies to offset expected market declines in some aging Western bull markets before the expected business cycle turn occurs.
Losses in 2017 were largely due to tax law changes that will be balanced over the full eight years allowed. Sans those charges, the company earned $2.59 per share in 2017. Price to Book is 1.49, Enterprise Value to /EBITDA is 15.76 and the stock is trading over book value per share of $48.81. The price is too frothy at this level. The company has a good balance sheet and a 5.89 current ratio, so I don't believe there is near-term pressure on the financials.
The weakness of the company is the lack of efficiency gains in its solar products, not seeing strong growth in 2017 which is putting it behind the competition. The company may be in transition to the new Series 6 product and 2018 may be the year the company builds base moving forward.
Long term, the company has brighter prospects as countries are signalling demand for cleaner energy alternatives, and away from nuclear and coal. While I believe renewable energy projects cannot replace the base load capabilities of nuclear, it is clear that solar energy is here to stay especially as cost per watt continues to fall making it at least a viable, if imperfect, power alternative.
First Solar appears to be concentrating on large industrial scale projects which will be accretive to revenues over time, but the company needs to advance R&D and improve their attractiveness compared to their competitors. I expect 2018 to be fairly week for the company but near the end of the year may be a different story.
The stock has moved very strongly in the last month and I believe it is too high to enter, therefore I would wait to see what 2018 brings before investing.
—
Klondex Mines (KLDX) properties were recently acquired by Hecla, with some implication that certain deposits may be spun off. This is a complicated deal and investors should wait to see the resolution. Plus, the shares have already popped on the news, so the proposed value at time of my analysis has already been realized by current stockholders.

Source: Yahoo Finance
SELL
Seneca Corp. (SENEA) provides packaged fruits and vegetables globally. Studies have shown that use of these foods in American households is declining due to substitution of sides from fruits and vegetables at the dinner table, strong reduction in fruit juices at breakfast time, as well as movement into fresh vegetables and fruits and away from packaged.
The company has a very low-profit margin (0.31%) but has reported recent sales increases of 7.1% for nine months ended Dec 31, 2017. The current ratio is over 4 and they are trading under book value, but the declines in product favorability with Americans along with weak profits may haunt them, despite their current favorable balance sheet. I don't see the long-term upside for the company unless they make a strategic acquisition to boost profit margins. The acquisitions to date capture market share but don't have much potential to boost margins and keep the balance sheet strong. This company is not a buy at this time.
—
Foot Locker (FL) sells athletic shoes and apparel in many markets. This one is suffering from falling sales like many other small apparel companies.
Comparable sales and gross margins are down. There appear to be challenges with brand mix, and the company has not developed a strong retailer strategy to offset brick and mortar sales losses. However, one bit of good news is that sales per square foot are up a bit since the store closures. That indicates that the overall retail pie is shrinking slowly (slow ice melt) for which the company has some room to develop new sales channels.
Also, the company is facing a lawsuit from disappointed investors claiming the company made false statements, which builds more uncertainty into their future prospects and likely puts more downward pressure on the price.
However, this will likely take time and I expect the revenues to continue to drop in 2018. If the economy takes a hit as I expect it too, this company is really going to struggle as it relies a lot on premium brand sales. This is not a buy at this time.
Disclosure: I/we have no positions in any stocks mentioned, and no plans to initiate any positions within the next 72 hours.
I wrote this article myself, and it expresses my own opinions. I am not receiving compensation for it (other than from Seeking Alpha). I have no business relationship with any company whose stock is mentioned in this article.