Is It Too Late To Buy Microsoft?
May 29, 2018 12:42 am
Microsoft's (MSFT) stock is on fire lately, gaining over 40% in the past year on the back of better-than-expected financial performance. However, past performance does not guarantee future returns. With the stock trading near all-time highs, it makes sense for investors to wonder if Microsoft still offers attractive upside potential from current prices or if the best is already in the past.
In order to try to answer this question, the following paragraphs will be looking at Microsoft's stock based on quantitative factors. Statistical research has proven that variables such as financial quality, valuation, momentum, and relative strength can be powerful return drivers for stocks over the long term. Let's find out what the numbers are saying about Microsoft's stock and its potential returns on a forward-looking basis.
A High Quality Business
Over the past several years, Microsoft has been making big bets on cloud services, and these efforts are producing tangible results. The company is reporting record financial performance on the back of impressive numbers from Azure, Office 365, and LinkedIn.
Total revenue during the quarter ended in March of 2018 amounted to $26.8 billion, growing by 16% year over year. Revenue is outgrowing expenses, so profit margins are moving in the right direction, and earnings are growing at a faster rate than sales. Operating income was $8.3 billion during the quarter, increasing 23%. Diluted earnings per share amounted to $0.95, growing by 36% and surpassing Wall Street expectations by $0.10 per share.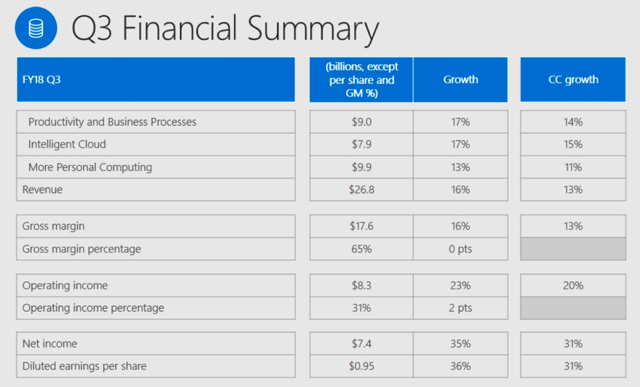 Source: Microsoft
Looking at the company's main growth engines, Microsoft is doing quite well in the most important segments:
Office commercial revenue grew 14% last quarter, while Office 365 commercial revenue grew 42% and Office 365 commercial seats grew 28%. Office consumer revenue increased 12%.
The Dynamics business showed accelerating growth, with revenue expanding 17%, driven by Dynamics 365 growth of 65%.
LinkedIn revenue grew 37%, with more than $1.3 billion in revenue.
Server products and cloud services revenue grew 20% to $6.3 billion, driven by continued strong Azure revenue growth of 93%.
The company returned $6.3 billion to shareholders through dividends and share repurchases during the quarter, increasing total shareholder return by 37%. Microsoft nearly doubled the year-over-year buyback amount, and the company has roughly $30 billion remaining of its $40 billion share repurchase authorization.
Over the past five years, Microsoft has substantially increased its dividends while also reducing the amount of shares outstanding through buybacks. Considering the company's financial strength, it makes sense to expect sustained dividends and buybacks from Microsoft in the years ahead.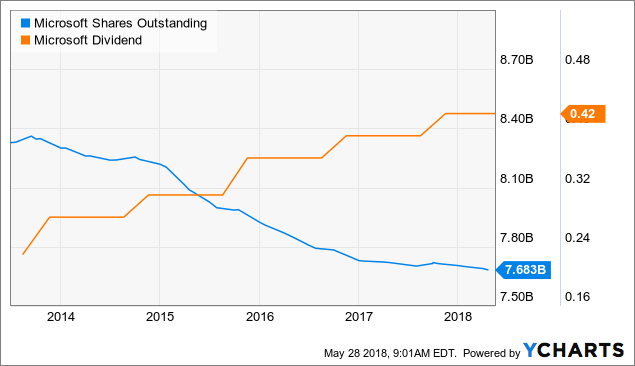 The Price Of Quality
Microsoft's stock is not cheap at current prices, but valuation is not excessive either for such a high quality business. Based on earnings expectations for next year, the stock is trading at a forward price-to-earnings ratio of 23.8.
This is relatively expensive in comparison to the broad market, but not in comparison to other companies in the industry. As a reference, the average company in the software and services sector is currently trading at a price-to-earnings ratio of 32.9.
In the words of Warren Buffett: "Price is what you pay and value is what you get." This means that valuation ratios should be interpreted in a broad context, and a business with above-average quality deserves above-average valuation ratios.
If Microsoft can continue delivering low-double-digit revenue growth over the coming years on the back of healthy performance from Azure, Office 354, and LinkedIn, then the company can clearly justify its current valuation levels.
Powerful Momentum
Stock prices don't just reflect business fundamentals in isolation, but financial performance in comparison to expectations can be an even more important return driver. When a company is delivering better-than-expected earnings and expectations about future earnings are increasing, this generally pushes the stock price in the right direction too.
The chart below shows the average earnings estimate, the actual reported number and the earnings surprise, both in absolute and percentage terms over the past four quarters. Microsoft is clearly doing a sound job at consistently delivering earnings numbers above Wall Street expectations.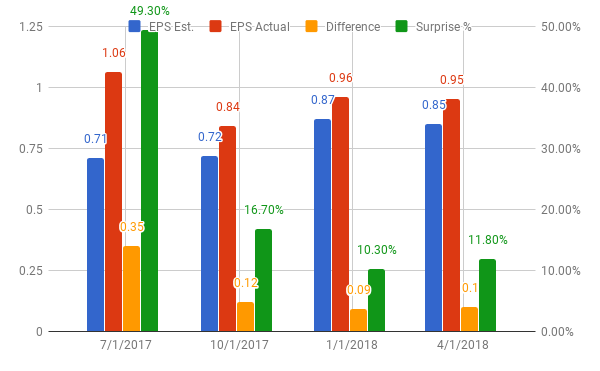 The chart compares the stock price versus earnings expectations for the current fiscal and next fiscal year. It's easy to see how the stock and earnings forecasts are closely correlated.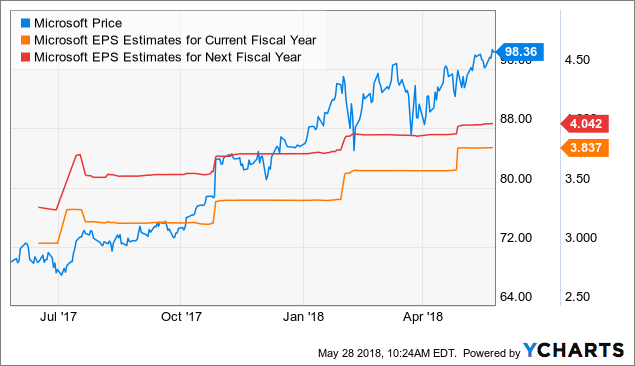 Vigorous Relative Strength
Winners tend to keep on winning in the stock market. Besides, money has an opportunity cost. When you buy an investment with subpar returns, that money is not available to invested in companies with superior performance. For this reason, we don't just want to buy stocks that are doing well, we want to buy the names that are performing materially better than others.
Microsoft is comfortably outperforming both the SPDR S&P 500 (SPY) and the Technology Select Sector SPDR ETF (XLK) over the past 12 months. Compared to both the market in general and the sector in particular, Microsoft's stock is displaying outstanding relative strength.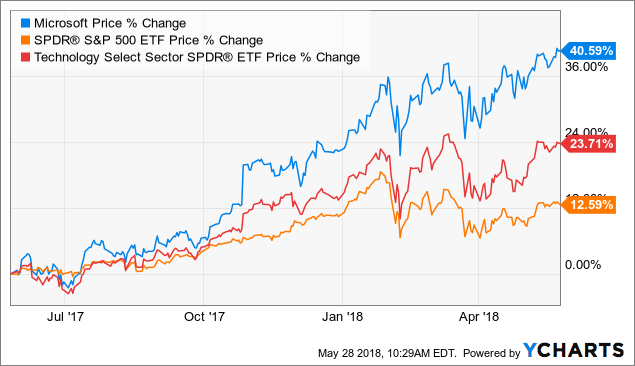 Putting It All Together
The PowerFactors system is a quantitative investing system available to members in my research service, "The Data Driven Investor." This system basically ranks companies in a particular universe according to the factors analyzed in this article for Microsoft: financial quality, valuation, momentum, and relative strength.
The system has produced solid backtested performance over the long term. The chart below shows how the 50 stocks with the highest PowerFactors ranking in the S&P 500 index performed in comparison to the SPDR S&P 500 ETF since 1999. The backtesting assumes an equal-weighted portfolio, monthly rebalanced, and with an annual expense ratio of 1% to account for trading expenses.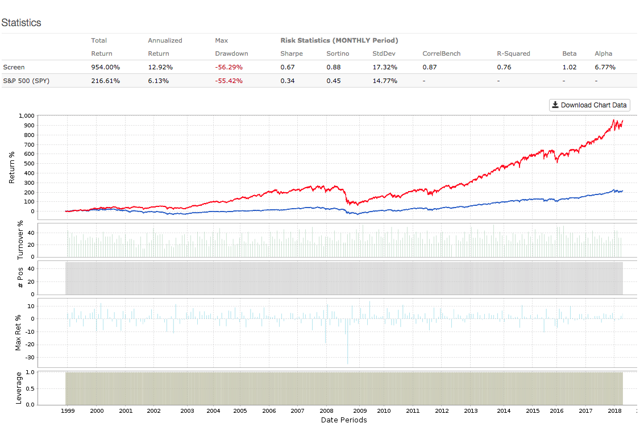 Data from S&P Global via Portfolio123
The system more than doubled the benchmark, with annual returns of 12.92% per year versus an annual return of 6.13% for the market-tracking ETF in the same period. In cumulative terms, the system gained 954% versus 216.61% for the benchmark.
Microsoft is one of the 50 stocks currently picked by the system, which means the company is among the best 10% of those in the S&P 500 based on a combination of quantitative indicators that measure financial quality, valuation, business momentum, and relative strength.
Backtested performance does not guarantee future returns, and this kind of analysts should always be interpreted with caution. That acknowledged, it's good to know that the numbers are clearly pointing towards further upside potential in Microsoft's stock.
Capitalize on the power of data and technology to take the guesswork out of your investment decisions. Statistical research has proven that stocks and ETFs showing certain quantitative attributes tend to outperform the market over the long term. A subscription to The Data Driven Investor provides you access to profitable screeners and live portfolios based on these effective and time-proven return drivers. Forget about opinions and speculation, investing decisions based on cold-hard quantitative data can provide you superior returns with lower risk. Click here to get your free trial now.
Disclosure: I/we have no positions in any stocks mentioned, and no plans to initiate any positions within the next 72 hours.
I wrote this article myself, and it expresses my own opinions. I am not receiving compensation for it (other than from Seeking Alpha). I have no business relationship with any company whose stock is mentioned in this article.